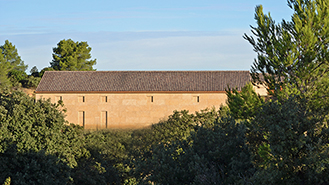 WEATHER
The sunny days with strong cool nights were difficult for the maturity. It was necessary to wait for the first days of October for a good phenolic maturity. It was critical to avoid rushing ! We waited until the grapes reached their optimal maturity …
MANUAL WINE HARVEST

The manual wine harvest begins on he 15th September, by Syrah and Cinsault (Rosé) and continues with Grenache and Mourvedre in October.
MAKING OF THE WINE

The wine making requires precision for a good extraction of tanins without drought and to assure an important elegance like next vintages. A meticulous work.
RESULT
An exceptional vintage can soon be discovered in first combinations. We hope that the wines will seduce you like our next vintages.
We are very proud to present the result of 2 years work.